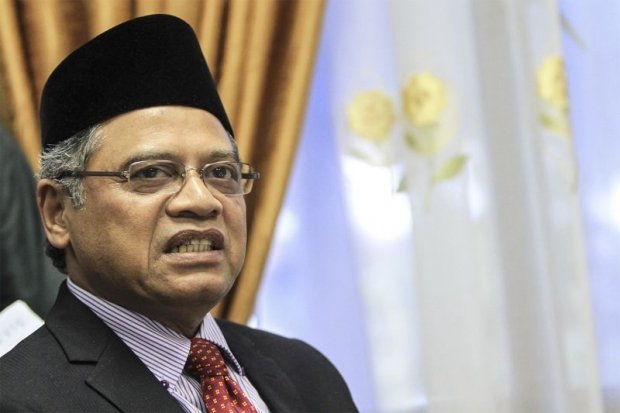 Jakim director-general Tan Sri Othman Mustapha said the proposed new halaal logo for Muslim-made products would not be legal unless certified by existing regulatory authorities. — File pic
KUALA LUMPUR, Sept 26 — The proposed new halaal logo for Muslim-made products is illegal unless certified by existing regulatory authorities like the Department of Islamic Development Malaysia (Jakim), its director-general Tan Sri Othman Mustapha has said.
Othman said the Malaysia Institute of International Islamic Cooperation's (Ikiam) and Rubber Industry Smallholders Development Authority's (Risda) joint initiative for the new halaal logo may a good objective, but could be unlawful.
"If Ikiam and Risda intends to directly issue the new logo for Muslim products by Risda smallholders, then it contravenes the Trade Descriptions (Certification and Marking of halaal) Order 2011 which clearly states that only Jakim, Jain and Main are the competent authorities in issuing halaal certification," he said in a statement posted on his Facebook account last night, referring to state religious affairs departments and state Islamic religious councils by their acronyms.
"This is important to avoid any quarters including individuals or companies from simply issuing halaal certification," he added.
In order to avoid breaching the 2011 order, Othman said Risda has to first ensure that the halaal certificate by Jakim or state religious authorities have already been obtained by the products that will receive Risda's new halaal logo.
Othman also said he will seek further clarification from Risda on its intentions to issue the new halaal logo.
On Saturday, Risda chairman Datuk Zahidi Zainul Abidin was reported saying that the development body plans to launch the new halaal logo next year that will be issued by Ikiam only for products made by Muslims.
"The need for another halaal logo is to distinguish products that were produced by Muslims against that of non-Muslims besides helping Risda smallholding entrepreneurs and Muslim entrepreneurs make forays into the halaal markets locally and abroad," he was quoted saying by national news agency Bernama.
Zahidi, who is also listed as Ikiam's chairman, had said the additional new halaal logo on top of Jakim's existing halaal logo would help clear misgivings over the veracity of halaal products.
He had reportedly said that too few Muslim entrepreneurs applied for halaal certification at only 28 per cent against 72 per cent non-Malay entrepreneurs, while noting that only 11 per cent registered with the government's halaal Industry Development Corporation to export their products are Muslim companies and the rest are non-Muslim companies.
Source : The proposed new halaal logo for Muslim-made products is illegal